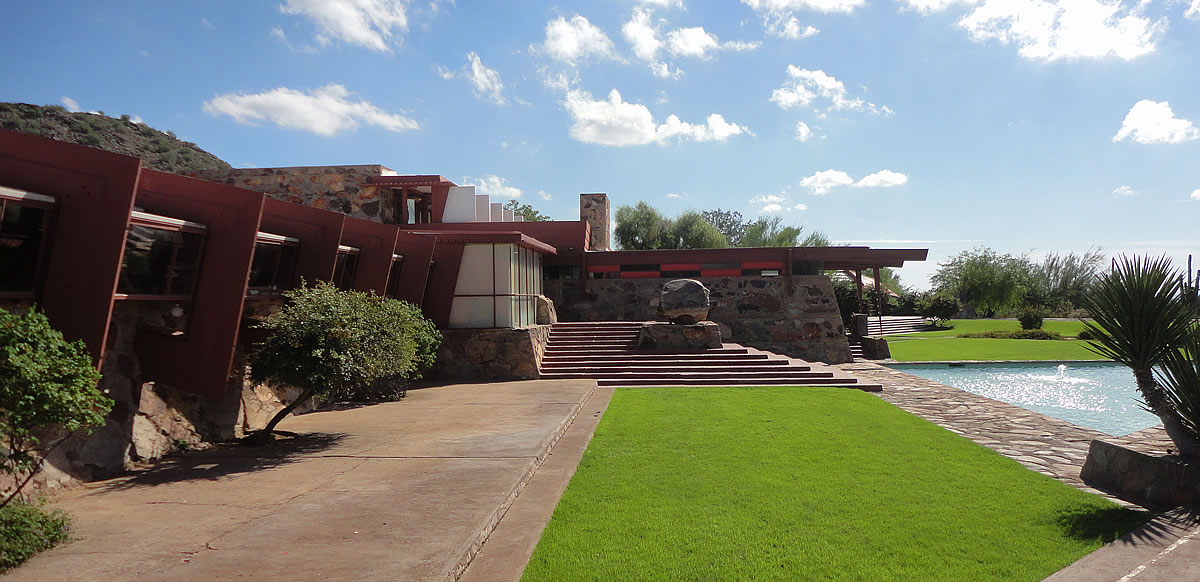 Taliesin West – Not Your Grandma's House
Taliesin West is unlike any house I've ever seen. Of course, I've never seen another Frank Lloyd Wright house before so that would explain it. And, to be fair, Taliesin West isn't just another Frank Lloyd Wright house.
First of all, the grounds are home to the Frank Lloyd Wright Foundation and School of Architecture so in addition to the house there is a gift shop, theater, classrooms, etc. Thus, it feels a little more like a compound than a home.
Second, and more importantly, this was Wright's winter home, not a commission from a  wealthy business man trying to show off. So, the craftsmanship is not at the same level you would see at some of his higher end homes.
The first thing that struck me was the concrete. Ok, actually the first thing that struck me was the sticker shock of $36 per person for a 90 minute tour but the next thing was the concrete. Now that I have done a little research I do see that it was a common material for him but still, the concrete was very rough and didn't feel finished. This is probably due to three reasons. First, he used a lot of rock and sand from the property. Second, the buildings were put together by architectural apprentices, not craftsman. And third, Wright was bad with money and probably didn't have much to spend. In many ways Taliesin West was an experiment in style and construction and it shows it.
The main thing I found missing from Taliesin West was comfort. That may be my practical Midwestern roots showing but seriously where can you sit down and relax after a long day at work? Wright liked to challenge people's perspectives by making some rooms short and tight and others large and open. This gave me an unsettled feeling. I can only imagine what it was like when first built with very few windows. It was just open to the elements. In addition, we saw dining tables that were too short to get your knees under, a bathroom the size of a closet and his bed which was actually two twin beds divided by a short wall. When the wind blew at night he would sleep behind the wall to stay out of the draft. Yes, really.
I will say that the grounds are beautiful. The green grass and blue pools of water feel a little out of place but they work well with Wright's desire to merge nature and man-made buildings. And, despite the cost of the tour it was worth it. Our tour guide is a fan of Wright and was very knowledgeable. And, let's face it, how often do you get to see the home of an American icon?